Title: Devil's Bargain
Series: King of Hearts Book 1
Author: Kathryn Sparrow
Publisher: MLR Press
Release Date: January 3
Heat Level: 4 – Lots of Sex
Pairing: Male/Male
Length: 67500 Words
Genre: Romance, Fantasy, Paranormal
Seth Griffin is forced to live out his wildest dreams at the expense of his best friend, the man he loves.
Seth Griffin's life was basically on track. Attend Cornell, double major in Mechanical Engineering and Astronomy, play basketball, and room with his best friend, Kevin. So what if he had a hopeless crush on his gorgeous, straight friend.
When Maynard Frederick Winthrop IV buys all of Seth's family's debt and threatens to foreclose, everything Seth has worked for is in jeopardy. Winthrop offers Seth a deal: spend a week at his mansion, a place that seems to defy logic and violate the laws of physics, performing challenges of Winthrop's choosing. If Seth succeeds, all will be forgiven.
But can Seth do as Winthrop asks, especially when Kevin is the one who will pay the price?
Guest Post
NaNoWriMo is short for National Novel Writing Month. It's a writing challenge that is set every November. The basic challenge is to write 50,000 words in one month. It's a freeing experience to just focus on writing words. Not worrying if they are the right words or good words, just… all the words.
In 2013, I decided to try NaNoWriMo. It's the only time I've ever participated because the experience was so… all encompassing. I didn't get much else done that month, the house, kids and spouse were somewhat neglected. But I wrote and wrote and wrote. In the end I completed the challenge in twenty days.
That book was the first draft Devil's Bargain. In a way, getting to The End was really the beginning of the journey with this book. I had a lot of word,s but now I needed to edit, shape, and hone those words. I went through two rounds with my critique partners to learn where the weak spots were.
The scene where Seth has dinner with Winthrop was SO MUCH LONGER. After all, I needed lots of words and apparently I enjoy describing food as much as I enjoy eating it.
Halfway through editing, I took a year off to have shoulder surgery. That was fun… Well, actually it sucked but it was necessary, and I'm here now. I'm so excited to share this with you.
Winthrop reclined in his dining room chair, placing his hands on his prominent belly. "So tell me, why double major in Mechanical Engineering and Astronomy?"
Whoa, where did that come from? "I want to work for NASA. I want to design spacecraft."
"A lofty goal. The US government has not been as supportive of NASA as it once was."
"I know. The politicians are stupid and shortsighted." Seth's eyebrows drew down. "Space is the future. The things we've discovered from space exploration have benefitted mankind."
"Do you mean Tang or Velcro?" Winthrop smirked.
"Actually, neither of those things was created by NASA. Water filters, cordless tools, and long-distance telecommunications are a just a few of the technologies that resulted from the space program."
Winthrop shrugged. "At what cost? Twelve billion for a space pen?"
Seth huffed. Winthrop had discovered one of his pet peeves. He knew he should try to move the conversation to his family situation, but he couldn't stop himself from dispelling this urban legend. "Another myth. The space pen was developed by a private company and sold to NASA. Besides, pencils are nasty in zero-g. The lead breaks, and you get dangerous particles floating everywhere."
"You like to argue." Winthrop's head tilted so that he glared down his rotund nose.
Seth snapped his mouth closed. The last thing he needed was to antagonize this man.
The servers brought the second dish, another shelled creature.
"Escargot, snails. Served in a garlic herb butter."
It seemed it was going to be a night of firsts for Seth. He again looked to his host, who selected the tongs and another small fork. Using the tongs, he picked up a shell and scooped out the meat inside.
Seth followed suit. He retrieved the snail flesh and plopped it into his mouth. The garlic caressed his tongue, although the meat itself was a bit chewy. He glanced at his host.
Winthrop watched him intently as he chewed. "Do you like the snails?"
Seth wanted to shrug. Butter-flavored rubber really wasn't his idea of a good time, but his host had him captive. Smile and get through this. "They're interesting."
"I didn't expect sparkling conversation, but you're even quieter than I imagined. Why space exploration? Go deeper…."
Excerpt
"There's one thing I don't understand about you. You're gay. You're out. You live in a liberal state, but you rarely hook up, no boyfriends, nothing. What gives?"
What? Why did Winthrop know he was gay or care?
"Excuse me. I don't see how that's any of your business."
Winthrop's brows climbed. "Believe me. It's my business. Everyone has needs, but you live like a monk."
"I'm a double major across two colleges and a varsity athlete. I don't have time for a boyfriend, and I'm done with hookups."
Winthrop shook his head, a frown marring his face. "That's crazy. There are even a couple guys on your team who have offered to blow you, bottom, top, whatever, but you keep refusing. Even on those away games, alone, in a hotel."
"Look. Enough of this." Seth slammed his hand down on the table. "I came here. I sat through this meal. It's done. You clearly have my family and me over a barrel. Isn't it time to tell me what this is all about?"
"As you wish."
Purchase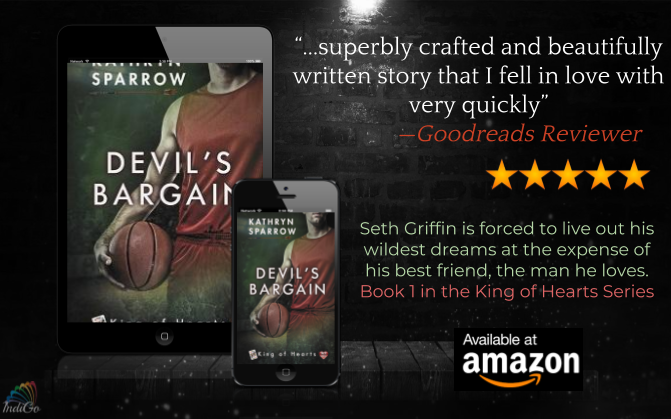 Meet the Author

Kathryn Sparrow has had stories spinning around in her head her whole life and finally decided it was time to write them down. For twenty years, she worked in the Software Industry as a Software Quality Engineer, so she gets a particular thrill including geeks in her stories. Now, she is a stay-home mom although she thinks that's a terrible name for the job since she spends so much time driving her kids to their various activities. She lives in Massachusetts with her geek husband and adorable, infuriating daughters, who are too smart for their Mommy's own good. If she had spare time she would spend it knitting, crocheting, cross stitching, and doing any other handicrafts that caught her fancy.
Website | Facebook | Twitter | Goodreads | eMail | Tumblr | Pinterest
Tour Schedule
2/11 The Blogger Girls
2/12 Books, Tattoos and Tea
2/13 Matt Doyle Media
2/14 MM Good Book Reviews
2/15 Love Bytes
2/18 Bonkers About Books
2/19 My Fiction Nook
2/20 Erotica For All
2/21 Small Queer, Big Opinions
2/22 Queer Sci Fi
Giveaway